What can we learn from this fish finder screen?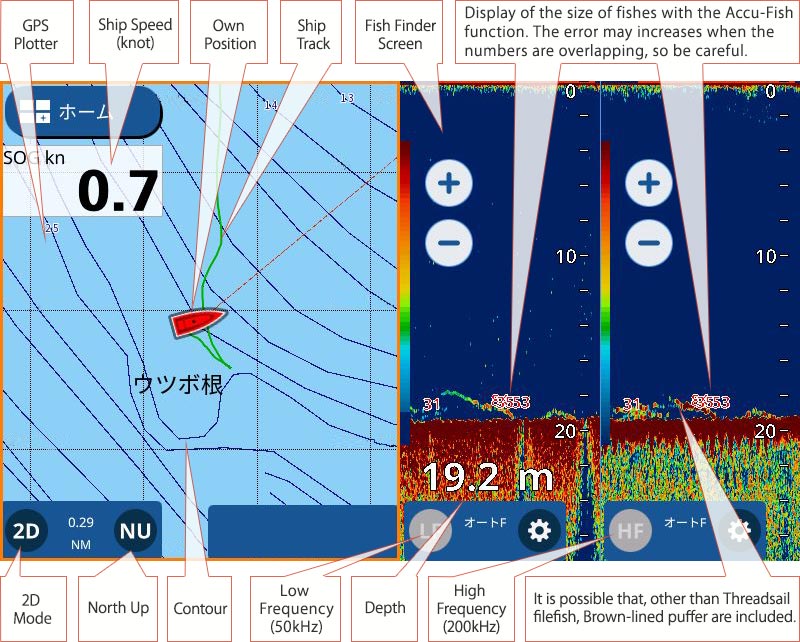 Moving near the "Moray rock reef" displayed on the GPS chart, if the boat is moving slowly, the sea bed is generally displayed as flat. Near the bottom of the sea, the detection of fishes, that seem to be Threadsail filefish, is displayed.
This GPS fish finder image was taken at the moment where the boat started to move in order to return on the same course once again, after moving over the points using a spanker. The frequency of the ultrasounds emitted by the fish finder is 50kHz on the left side of the screen, and 200kHz on the right side. This shows the detection image taken underwater.
Fish finder screen explained
Water depth of 19.2m
The bottom of the sea is generally flat
Detection of a fish echo near the bottom of the sea
This screen image was taken near the spot aiming for Threadsail filefish.
The Threadsail filefish is a fish found around the reef, but as long as observed during scuba diving, rather than steep reefs, it can mainly be found in places where rocky reefs and sandy areas mixed, as shown in the underwater image below.
On the GPS chart, the contour line linking the same water depth is drawn, and it is displayed "Moray rock reef" on the screen. In reality, if the boat is moved as to cross over the moray rock reef, small and big undulations repeat on the fish finder screen. When the bottom discrimination function is displayed and that several sediments (such as sand, mud, pebbles, reefs, etc.) are repeated, this distance was confirmed to continue for about 300 meters.
Threadsail filefish particularly likes to live in this kind of sea bed topography and sediment. It is possible to continuously aim for Threadsail filefish by moving the boat slowly using a spanker. Of course, not only the Threadsail filefish is caught up, but also various guests such as Brown-lined puffer, Rosy grub and others.
Small rock reef, such as displayed on the underwater image below, are not displayed on the GPS chart, but when actually diving, small rock reef (such as on the underwater picture) are often dotted near big rock reef as seen on the GPS chart. Such a location is a great spot for Threadsail filefish.
In addition, when the boat moves slowly during fishing, the seabed lines tend to be displayed as flat on the fish finder display, even if there actually are seabed undulations. Therefore, when these undulations need to be understood, it can be useful to move the boat speed up to 3 knots per hour for a moment, and check.