What can we learn from this fish finder scree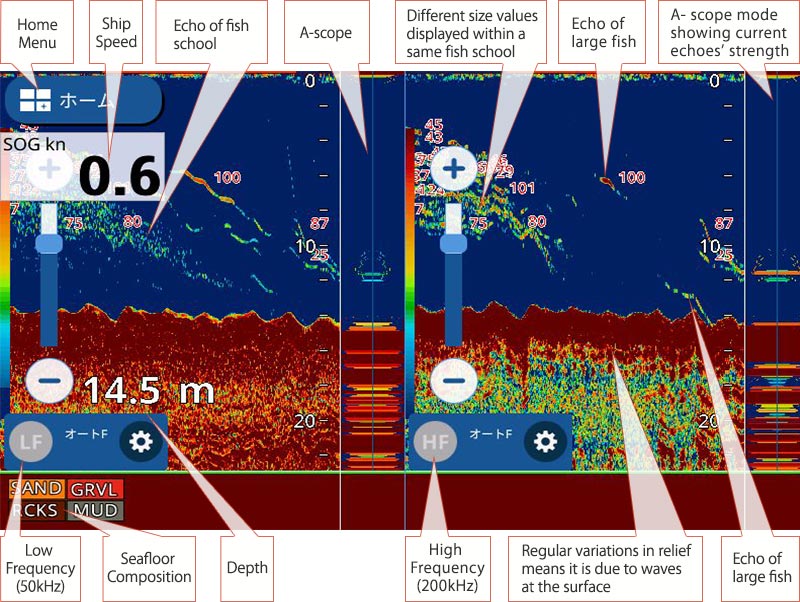 It is important to take into account the size of the fish displayed on the fish finder when selecting the size of the lure.
This screenshot was taken while the vessel was moving at a speed of about 0.6 knots per hour. It is therefore an image of the underwater environment as represented at 50 KHz and 200 KHz frequencies and at a speed of 0.6 knots.
We can learn the following from this image:
Water depth: 14.5 meters
The bottom sediment is composed of RCKS (rock) and the topography is almost flat
There is a school of fish
ACCU-FISH™ shows two numerical values on the screen: "100" and "87"
The vessel is navigating in areas where the seabed is mainly composed of rock, but with little relief. Since there are no high landforms or peaks and no rocky structures that can provide habitat in these areas, I assume that the echoes reflected on the screen are those of a school of migratory fish rather than local fish.
We can notice that, following the school of fish, two echoes, likely to be solitary fish, made their appearance, and their size are respectively 100 and 87 according to ACCU-FISH™. As I suppose these are large predatory fish targeting the school near them, and I'm gonna catch them!
I throw a metal lure in the direction of the boat's wake and make a special movement called "One-pitch jerk" to attract large fish.
The ACCU-FISH™ function displays several sizes of fish but sometimes a lot of small fish forming a very compact school can be considered as a large fish by the fish finder, in which case it is better to rely on the smallest number displayed on the screen, which probably reflects the actual size of the fish. On the screen, it is displayed the following fish sizes 101, 80, 75, 75, 45, 24; which means 24 is the value that is probably the closest to the actual fish size.
I tried to have them bite by changing the speed and the way I pull the line but it didn't work. So I decided to move on to a bigger jig.
Immediately after changing the 8 cm jig to a larger 20 cm one, similar in size to the fish displayed by ACCU-FISH™, the Hiramasa (Yellowtail amberjack) appearing on the screen made his move to catch eat the lure!
It is not possible to say that it was the change in bait size that allowed me to catch the fish, but it was the ACCU-FISH™ function that allowed me to evaluate the ideal size for the lure by taking a size similar to those shown by the fish finder.