What can we learn from this fish finder screen?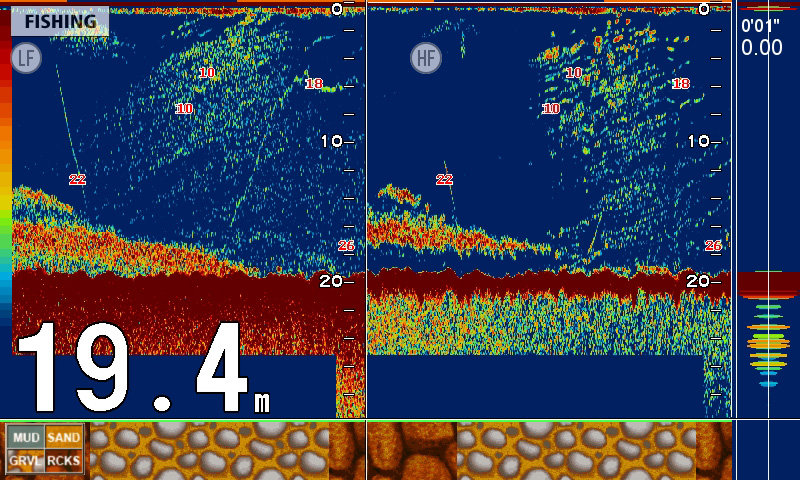 Sometimes there is a reason it's worth trying, even if you are not clearly seeing individual fish echoes on the screen.
This screenshot was taken while the boat was moving at a speed of 0.5 knots. On the left side of the fish finder image, you can see what captured echoes look like at 50 kHz and on the right side at 200 kHz.
Fish finder screen explained
Water depth: 19.4 m
Bottom structure: A combination of rocks and gravel
Fish school echo: Some individual fish echoes with sizes within the fish school
Today's catch was yellowtail amberjack.
To begin, we were looking for a fishing spot with the boat while travelling at a speed of 3 knots. Although we did not see typical yellowtail amberjack-looking echoes, we decided to setup our fishing spot here. The reason we stopped was that a big echo of schooling fish, which yellowtail amberjack prefer for its bait, were displayed on the screen.
Another reason why we setup here as our game field for today was, the individual fish sizes displayed from the ACCU-FISH™ output in the middle strata to the surface were approx. 10 cm and these could be assumed to be Japanese anchovy.
(Also, an underwater picture was taken by a scuba diver and we could see yellowtail amberjack in it. The yellowtail amberjack were chasing after the Japanese anchovy at almost invisible speed.)
The size of the yellowtail amberjack we finally caught were in the 60 cm class, but we could not catch the figure with the fish finder, since they were very fast and quickly moving from one direction to another. Even though the anchovy was moving quickly trying to escape from its predator, their schooling habit allowed our fish finder to receive more echo reflections to display on the screen.
One interesting thing the scuba diver told was, the yellowtail amberjack was not just chasing after the fish school; but it would sometimes stay back at a distance to pretend that it was giving up chasing the fish school, and then in the next second it started attacking again suddenly appearing from out of nowhere.
It is beyond imagination if the yellowtail amberjack actually intended to take this strategy; but it our patient waiting and jigging for a yellowtail amberjack to come prey on the fish school paid off.