What can we learn from this fish finder screen?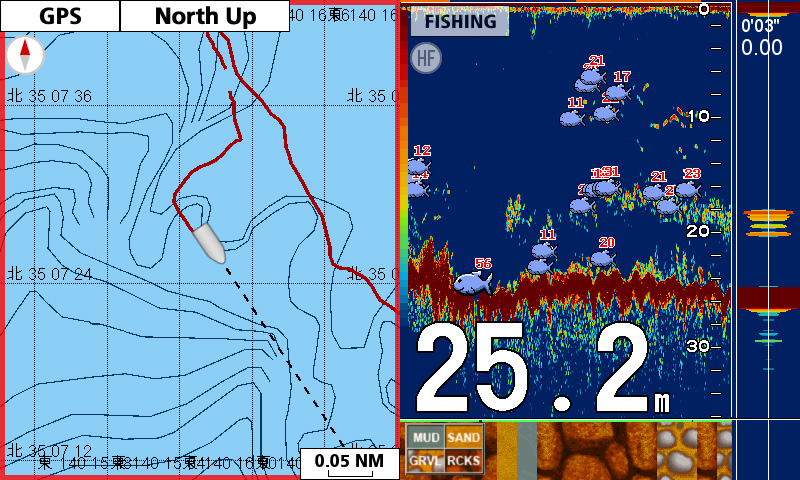 By keeping a look out for areas where the bottom composition changes from muddy to rocky, you can increase your chances of getting a catch.
This screenshot was taken when the boat was travelling at a speed of 0.5 knots. The right side of the screen shows the fish finder at 200kHz.
Fish finder screen explained
Depth: 25.2m
Bottom composition: Rocky to gravel intermittently
Several schools of fish can be spotted in the middle of the water column
7-8m from the seabed a school of fish with an average size of 20cm can be seen.
At this fishing ground I caught a 6kg yellowtail amberjack, however, it was not caught by seeing its echo on the fish finder. With fish finders, experience has taught me that schools of fish are usually displayed correctly, but with individual fish a lot of different factors play in. When a fish finder captures a fish echo, depending on the relative speed of the fish, the size of its swim bladder as well as its orientation all play in when creating the final echo.
Taking these factors into account, it is often more advisable to search for the baitfish that yellowtail amberjack feed on instead of just searching for individual fish when you look for a fishing ground. When you find schools of horse mackerel and sardines, chances are high you will notice larger fish, hopefully yellowtail amberjacks. Yellowtail amberjack usually migrate in schools until they reach about 4kg in weight, after which they usually become solitary.
In the screen capture above, we can see a school of fish in the middle of the water column with an average size of about 20cm. The school of fish could be horse mackerel, based on their size. Whenever you find schools of baitfish, you can almost certainly be guaranteed that yellowtails, greater amberjack and other large predatory fish are in the area. You can use this opportunity to find good fishing spots. When you have found a good fishing ground, choosing the right lure is the next problem. You should always try to match the lure with the baitfish in the area. By matching your lure to the local baitfish you increase your chances of getting that catch, The ACCU-FISH™ function is very practical when you choose lure, since you get a better understanding of the baitfish in the area.