What can we learn from this Fish Finder screen?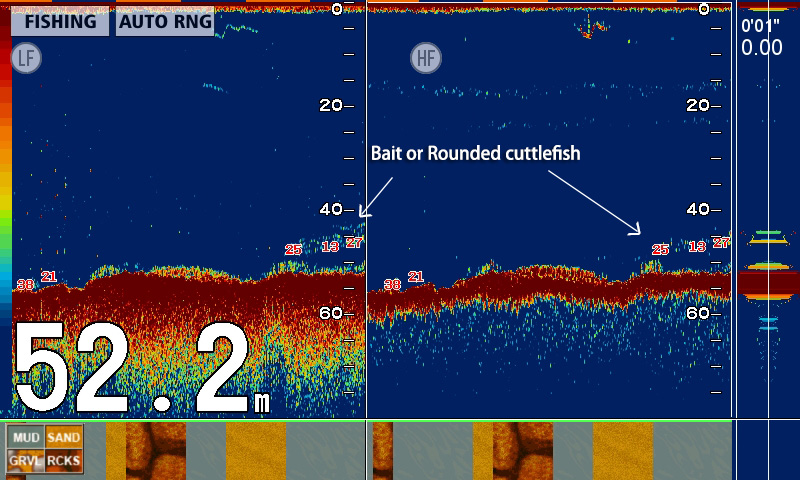 At around 5 – 10 m above the seabed you can see echoes of a fish school. We cannot tell if the composition of the fish school is of Rounded cuttlefish or Japanese common squid, or possibly bait fish or plankton that squid chase after.
This screenshot was taken while the boat was drifting at a speed of 2 knots. On the left side of the fish finder image, you can see what captured echoes look like at 50 kHz and on the right side at 200 kHz.
Fish Finder screen explained
Water depth: 26.2 m
Bottom Structure: A combination of mud, sand, and rocks.
Fish school echo at around 5-10 m above the seabed
Today's target was Rounded cuttlefish and child Japanese squid.
Squid swim around places small fish and plankton gather so that they can feed. Although, squid itself, is also preyed on by blue fish like snapper and flounder in this same place. Squid can get free from their predators here and they often get in the way of anglers.
Like I have explained in the Broad squid column, squid is one of the most difficult kinds of echoes to display and interpret on a Fish Finder. It is not only because of the fact Broad squid have a habit of changing its living strata according to the season, but also because of its body structure. All squids have a similar physical make up and do not have a swim bladder in their stomach. It is very difficult to detect each Cuttlefish on the Fish Finder, but sometimes it is possible to detect school of rounded fish with the Fish Finder if the density is pretty high. Even if the fish school was not of Rounded cuttlefish but just bait fish, the possibility that the Rounded cuttlefish are chasing after the bait is high. It is worth trying at the point.
One point to know is that Rounded cuttlefish are good bait of bigger fish. If you see those individual fish echo on your Fish Finder, the place will never be a good place to catch Rounded cuttlefish. Find a better place.
When you are fishing Rounded cuttlefish in a good pace, check out how the underwater situation on your Fish Finder. It will help you next time you find a hot spot.