What can we learn from this fish finder screen?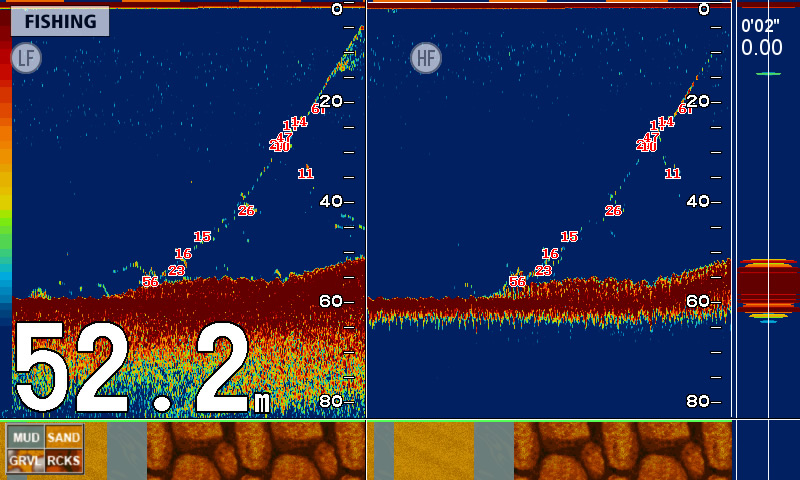 A Red seabream was caught where the seabed changes composition from sandy/muddy to rocky.
On this day the currents and wind were moving in opposite directions, the wind acting as a break and the currents gently moving the boat at a speed of about 0.3 knots. On the fish finder screen we can see echoes in 50 kHz on the left side and 200 kHz on the right side.
Fish finder screen explained
Water depth: 52.2m
Seabed composition: From sandy/ muddy to rocky
Echoes that appear to be fish can be seen close to the seabed
The screenshot above was captured just seconds before catching a 60cm Red seabream. It shows the jig being reeled in as well as Red seabream swimming up from the seabed following the jig. A Red seabream was caught using a special Japanese rubber jig called tairaba.
Red seabream prefers to habit areas with reefs, especially areas with a variation between reefs and sandy seabed. By using the Bottom Discrimination feature on your FURUNO fish finder, you can identify and search for areas like this. The Red seabream that was caught during this trip was caught close to a reef. The screenshot from the fish finder shows how the bottom composition changes from sandy to rocky, and echoes of Red seabream following the bait.
When using a rubber jig to fish for Red seabream, you should start reeling in the jig as soon as it touches the seabed. The reason for this is that Red seabream are said to start following the jig as it falls down in the water. The jig attempts to mimic a living bait, so if it remains unmoved as it touches the seabed the Red seabream might quickly lose interest. When fishing with tairaba you should always follow the same routine without interruption: let the jig fall down, as it reaches the seabed immediately start reeling it in.
Right below the boat the water depth is 52.2m, roughly 8m shallower compared with the sandy seabed previously passed. When you spot a fish on your fish finder swimming right below, first confirm the depth, and then drop the jig and control the fall with your thumb on your reel. By controlling the fall you will attract the interest of the Red seabream as well as help you avoid getting the jig snagged into objects.
Even with a fish finder, it is not uncommon to detect Madai at about 5 to 10 meters above the seabed. While the small fish are grouped in schools, the larger ones often swim alone, as shown in this video. their main prey are small fish such as sardines or small squids. To catch them, they hunt them in a semi-deep areas called the "middle layer"