What can we learn from this fish finder screen?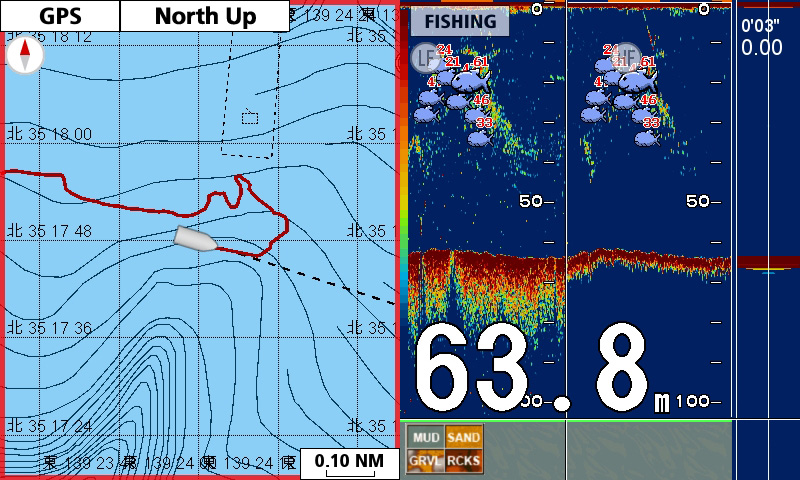 This screenshot was taken when the boat was slowly moving forward at a speed of about two knots, or roughly the speed of a normal person walking. On the left side of the fish finder image, you can see what captured echoes looks like in 50kHz, and 200 kHZ on the right side. Echoes are captured by the fish finder by sending out ultrasonic sound waves into the water.
Fish finder screen explained
Water depth: 63.8m
Seabed: Mostly flat
Seabed composition: Muddy
A school of fish appears at depths ranging from 10 to 50m
A 50cm yellowtail was caught at this fishing ground. Yellowtail migrate toward the coast to feed (whitebait, sardines and horse mackerel etc.) during the fall, and change their migratory patterns depending on bait.
When it comes to Migratory fish that prey on horse mackerel for example, it is usually easy to select a point from where to fish. Horse mackerel tends to shoal around any protruding banks on the seabed, if the seabed is flat however, it can be more difficult to find a good spot. In the screenshot above the seabed is flat, and the Migratory fish shoal in the intermediate range.
In situations like these a GPS plotter can be used effectively. On the left side of the image sample above, a ship mark is displayed and a red line detailing the travelled route can be seen. As this image sample was taken, the boat was doing a 180 degree turn in order to find a school of fish that had just been passed. With the ACCU-FISH™ function we can see that some of the individual fish in the school passed are 41cm respectively 61cm long. Even if we return to the same position where the school of fish was found, chances are high that it has moved to another location. Migratory fish moves quickly, but given time it's very likely that you will find the same school of fish again.
This proved to be true for this outing, the same school of fish appeared again, and a metal jig was immediately dropped into the water. The jig was dropped to a depth of about 10 meters deeper than where the school of fish was found, a 50cm yellowtail was caught utilizing a slow-pitch jerk. Slow-pitch jerk is a slow-pitch jigging technique that originates in Japan and is suitable in many situations, it also requires less physical effort than conventional hi-pitch jigging.
In Japan, yellowtail are called "shusseuo", a term which means that the fish changes name depending on its size. For example, a 50cm yellowtail can be called "Inada", "Warasa" and "Hamachi", all depending on which region of Japan it was caught in. Depending on region, the different sizes which determines name also changes.