What can we learn from this Fish Finder screen?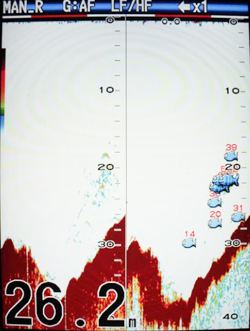 A risen seabed is a place where a variety of fish gather. You might often see some kind of fish school echo displayed on the Fish Finder when your boat is drifting over a risen seabed.
This screenshot was taken while the boat was drifting at a speed of 2 knots. On the left side of the Fish Finder image, you can see what captured echoes look like at 50 kHz and on the right side at 200 kHz.
Fish Finder screen explained
Water depth: 26.2 m
The seabed is rough rugged terrain.
Fish school echo, of which size is varied from 14 cm to 39 cm, reflected at the bottom of the seabed.
Today's target was Green fish.
Green fish are often targeted in shore fishing. But you can find them offshore as well, especially where you see a risen seabed on the Fish Finder screen. You can also find grunt there; while grunt swim around wider areas, Green fish stay down around the bottom of the seabed.
If you are setting the frequency at 50 kHz, you will be able to gain wider information than setting at 200 kHz, because the directional angle range of the 50 kHz (left screen) is wider. On the other hand, if you are setting at 200 kHz, you will be able to see a narrow area. In this screen shot, a fish school echo has been detected on both sides, 50 kHz and 200 kHz, meaning the boat drifted right above the fish school. If the boat was drifting diagonally upward the fish school, you will only see the echo on the left side, 50 kHz.
So what do we do now?
It has always been difficult to determine the size and configuration of the fish in a fish school. However, ACCU-FISH™ solves that problem. The right screen is with ACCU-FISH™ turned on and shows the size of the fish.
The size on the screen such as "39", "31", and "20" were pretty accurate when we compared them to the Green fish we caught. Also there is a size indication "14", which we can assume is a fish school of small red porgy.
Make full use of ACCU-FISH™ to determine the configuration of fish school!