What can we learn from this fish finder screen?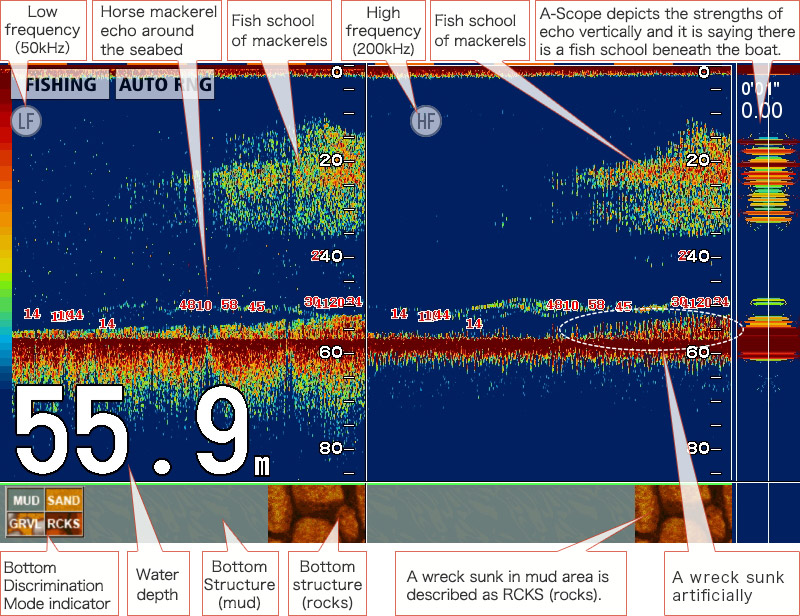 Fish school in middle strata is of mackerels and the other in the bottom strata is of horse mackerels.
This screenshot was taken while the boat was drifting at a speed of 0.2 knots. On the left side of the fish finder image, you can see what captured echoes look like at 50 kHz and on the right side at 200 kHz.
Fish finder screen explained
Water depth: 55.9 m
Bottom structure: Changed from mud to rocks
Fish echo: fish school echoes can be seen both in the middle and bottom strata.
The boat was going over the wreck when we captured this screen shot. We drifted our boat back and forth over the wreck to target fish gathering around it. The bottom structure of this area was mud and the seabed was flat. This is one of the characteristics of seabed which fish are not likely to inhabit. So we can assume that this wreck was made artificially to offer fish a place to live. As you can see on the screen shot, the bottom structure changes from mud to rocks at the very point you are about to going over the wreck. In this case the bottom discrimination function indicated the artificial wreck as "RCKS"; but if the bottom structure was real rock and not a wreck, the echo tail would be shown below the seabed line, making it easier for us to tell a wreck from an actual rocky area.
So now let's get back to the mackerel. The fish school echoes right on the wreck surface were actually horse mackerel and we verified this by catching them. However, once the boat drifted away from the wreck, we did not catch anymore. When we readjusted the position and started drifting over the wreck again, our lines got hit and we reeled in more horse mackerels, almost the same size as we had the first time. From this fact, it can be assumed that the horse mackerels stayed around the wreck.
On the other hand, the horse mackerel we caught were near the surface of wreck; the big fish school echo in the middle strata above the wreck, turned out to be mackerel. We found Chub mackerel and blue mackerel in that fish school. We repeated drifting back and forth over the wreck; but the school of mackerel did not always appear on the fish finder screen. Considering this, it seems that the mackerels were swimming around in a wider area. Therefore, if you are targeting a big catch of mackerel, it is a good idea to try finding a place where the mackerel are likely to prey on their food.