What can we learn from this fish finder screen?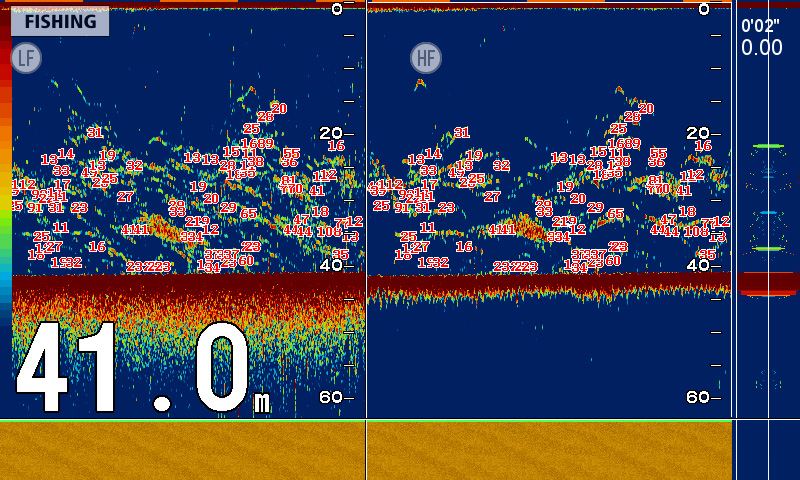 In this image we can see low and high density areas within a large school of fish, this kind of schooling increases your chances of getting a catch.
This screenshot was taken when the boat was slowly moving forward at a speed of about two knots, or roughly the speed of a normal person walking. On the left side of the fish finder image, you can see what captured echoes looks like in 50kHz, and 200kHZ on the right side.
Fish finder screen explained
Water depth: 41m
Seabed: Flat
Seabed composition: Sand
A school of fish reaching from the seabed up to a depth of 25m.
As this school of fish appeared, a metal jig was dropped into the water down to the intermediate range. Using the slow-pitch jigging technique, one could feel the constant bites of 40-50cm yellowtail.
With the ACCU-FISH™ function we can see individual fish size, but how come they are so varied? We know that the yellowtail are roughly 45cm in length, what about all other echoes? The school of fish found in the image above has an uneven density. This can happen when a school of small fish meets a predator, and then attempts to flee. With schools of small fish fleeing and moving around, more and less dense schools of fish are formed. At times, when lots of small fish gather at one specific spot, the ACCU-FISH™ function might interpret these as one large fish. When this occurs, you can rely on the information from the less densely packed schools of fish.
In any case, when you see a dense area and less dense area in a school of fish, chances are high that there are large predatory fish in action. This in turn means that you have a golden opportunity for fishing!